Webcast: Expert Testimony and Analytical Methods in False Advertising Cases
01.25.2017
In recent years, class action lawsuits with claims of false or misleading advertising related to consumer products—including consumables such as foods, supplements, and vitamins, as well as appliances and other household goods—have proliferated. Expert witnesses are playing an increasingly frequent and central role in the determination of damages in these cases. Both plaintiffs and defendants now often rely on expert testimony regarding surveys, statistical analyses of market data, or other analytical techniques to derive estimates of the value of the allegedly false claims.
In this two hour live webcast, Dr. Jesse David will participate on a panel identifying and analyzing some of the methodologies that have become the mainstays of economic, statistical, and marketing experts in advertising cases. Dr. David's presentation will cover the structure and use of hedonic regression to estimate damages in example applications and potential problem cases. Other speakers will also provide tips in designing survey methodology and the best practices in preparing, conducting, and presenting survey evidence in false advertising cases.
Download the slides Dr. David presented here: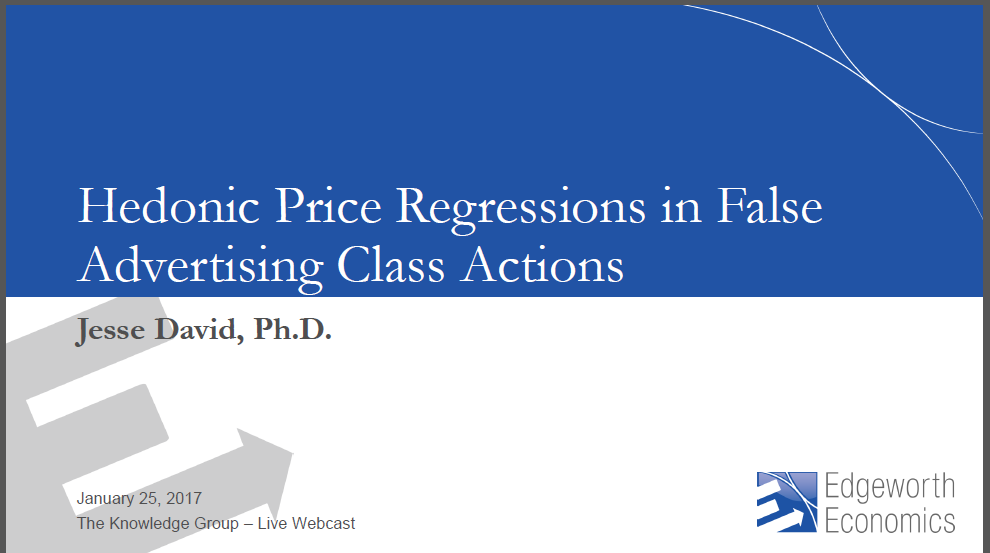 Related Materials
Please

contact us

for more information about the event.