Edgeworth CEO Dr. John Johnson Featured in the Washington Post
09.26.2016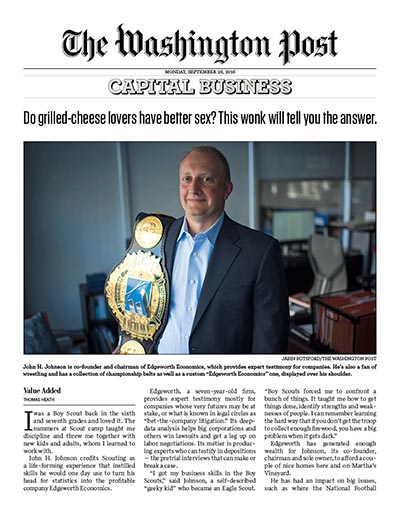 This week, the Washington Post wrote a profile on the business model and entrepreneurial success of Edgeworth Economics and our Founder and CEO Dr. John Johnson. The public recognition is especially meaningful to us as it coincides with the seventh anniversary of the firm's founding.
"Edgeworth's profile in the Washington Post is yet another acknowledgement of the qualities that make our firm the best environment in which to serve our clients. The feature also further underscores what makes us the company of choice for candidates seeking an intellectually challenging, collaborative, and rewarding career. I am grateful to have led this company for seven very successful years and look forward to many more," said Dr. Johnson.
Read the full feature here.
From The Washington Post, Sept. 26, 2016 © 2016 The Washington Post. Used under License.