Preparing for Employment Challenges in the COVID-19 World: Key Considerations for Employers
07.21.2020 | 1:00-2:00 pm EDT
Event Sponsor: Edgeworth Economics
The COVID-19 pandemic has presented a series of legal challenges for which employers should be prepared. Among these are risks associated with potential adverse impact in layoff, furlough, and hiring decisions; pay equity concerns due to changes in salary, work hours, and attrition; misclassification claims for exempt workers and independent contractors; and off-the-clock work claims.
Join expert labor economists from Edgeworth Economics and Kevin White, co-chair of the Hunton Andrews Kurth Labor and Employment team, on July 21 for this complimentary webinar.
The panelists will discuss the following topics among others:
Risk of apparent adverse impact for firms facing layoff and furlough decisions
Risk of using hiring benchmarks which do not reflect the current COVID-19 influenced labor market
Pay equity issues arising from salary reductions and workplace attrition
Pay equity challenges for assessing "comparable" work and productivity for "similarly situated" employees navigating work from home while providing care to others at home
Misclassification claims resulting from managers covering non-exempt duties of laid off or furloughed employees
Off-the-clock claims from non-exempt employees now working from home, and employees facing daily health checks upon returning to the work place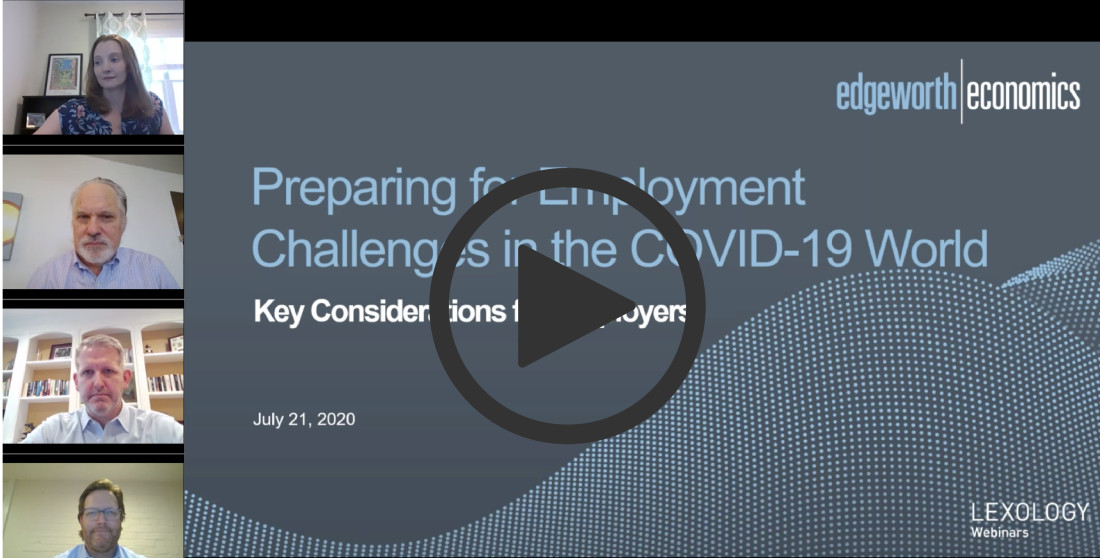 Register for this complimentary webinar here.